The J.D. Power APEAL Study is now in its 21st year, and it is still holding strong as a benchmark in the auto industry. Vehicles that rank highly in the APEAL Study have earned their positions because of the value they offer consumers.
Choosing to buy a car that has been awarded a spot in the APEAL Study rankings is a smart move. And there are a few models on the list that might be affordable enough for consumers with credit issues or limited budgets.
Budget-Friendly Options with APEAL
The APEAL Study measures owners' emotional attachment and level of excitement across 77 attributes. These attributes are combined into an overall APEAL Index score that is measured on a 1,000-point scale. Major brands are given APEAL Index scores in the study results. For example, in the 2016 Study, Kia scored a respectable 807 points out of 1,000. The three top ranking brands, Porsche, BMW and Jaguar, scored 877, 859 and 852, respectively.
The study also lists the top three models for each identified vehicle segment. Each of the following cars has earned an APEAL ranking in its segment and can be purchased new for less than $20,000. In the case of the Kia Soul, it was the only vehicle in its segment to qualify for the list, so it stands alone in the MPV (multi-purpose vehicle) category.
Each of these four vehicles can be classified as either a compact or subcompact car. And if you want to buy a new car with bad credit, these are the kinds of vehicles that are most likely to fit your budget. So, if you need a larger vehicle, it is recommended that you look for a recent model used option.
The Ford Fiesta: Small Car Segment
Test drivers have referred to the Fiesta as "one of the sportiest-handling subcompact cars on the market" and "a pleasure to drive." And its surprisingly upscale cabin will make you think that you're driving a much more expensive car. With its base engine, the Fiesta gets an EPA-estimated 27 mpg/city, 37 mpg/highway, which is above-average for its class. Critics have also noted that the Fiesta's SYNC 3 infotainment system is very user-friendly.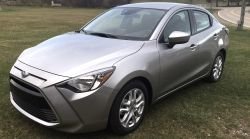 The Scion iA: Small Car Segment
The Scion (soon to be a Toyota model) leads with its impressive fuel economy, getting an EPA-estimated 33 mpg/city, 42 mpg/city, which is "excellent" for its class. This re-badged Mazda also features a handsome cabin that is built with "first-rate" materials. And if you have a lengthy daily commute, you might appreciate the Scion's supportive front seats that allow for good outward visibility. Many critics have noted that the backseat offers "decent room," even for adults, making the Scion a
good option for carpoolers
.
The Chevrolet Sonic: Small Car Segment
If safety is your top concern, you will probably appreciate the Sonic's superior crash test ratings. It received the highest score possible in every
crash test conducted by the IIHS
. The Sonic is also said to be fun to drive, with its "crisp" handling, composed ride and "lively" turbocharged engine. It also offers a generous amount of rear-seating and cargo space for a car of its size. As for fuel economy, the base engine does okay with an EPA-estimated 24 mpg/city, 35 mpg/highway.
The Kia Soul: MVP Segment
Families on a budget should know that the Kia Soul is one of the most spacious small cars on the market. It also has superior projected reliability ratings and crash-test scores. And its exceptionally long powertrain warranty should give you solid peace of mind. With a starting price tag that is almost as small as
the hamsters that promote it
, you may be amazed by the Soul's premium cabin. Its only drawback is its ho-hum fuel economy (an EPA-estimated 24 mpg/city, 30 mpg/highway). But the Soul's long list of standard and available features may make up for this fairly minor imperfection.
Whether you are in the market for a brand new APEAL Study winner or a highly-rated used vehicle, if you have damaged credit, your financing should be a top concern. Not every dealership is willing to work with bad credit buyers, and it can be challenging to find one that does. But Auto Credit Express can make this process quick and easy.
Assistance for Bad Credit Car Buyers
For nearly two decades, Auto Credit Express has helped car buyers with bad credit, and we can assist you with your financing needs. We can match you with a dealership in your area that works with the kinds of lenders that are qualified to approve you.
You won't be charged anything for our service, and you won't be under any obligation to buy a vehicle when you apply with us. The only thing you'll be risking if you don't is another day without a car. So, go ahead and fill out our simple and secure online application to get started today.