We take the Kelley Blue Book 2015 Best Resale Value award winner list and slice and dice it to come up with the best vehicles for consumers who are credit-challenged.
Confusing Price and Cost
Car buyers, especially those with bad credit, need to know there's a difference between the price and cost of a new car. The price is what you pay for it, while the cost refers to the total overall expenses incurred over the lifetime of ownership. These lifetime expenses are directly related to a vehicle's fuel efficiency, reliability, maintenance needs and, in particular, its depreciation.
According to Kelley Blue Book, during a typical five year term of ownership, that last expense - depreciation, which is a vehicle's loss in value - usually represents the highest cost to owners.
The good news is that depreciation is one area where buyers can reduce their overall costs simply by picking a vehicle with better a better resale value than others in its class.
2015 KBB Best Resale Value Awards
Kelley hands out their yearly Best Vehicle Value Awards to "recognize automakers' outstanding achievements in producing vehicles that best retain their value over the first five years (60 months) of new-vehicle ownership."
We took the latest list and whittled it down to the winners and top finishers in the two most affordable segments - subcompact and compact cars. Here they are along with our comments:
Best Resale Value: Subcompact Car
Best Subcompact Car: 2015 Honda Fit
Honda's subcompact Fit is all-new for 2015 and improves upon the old model in practically every way, including an EPA highway mileage figure of 41 mpg. Prices start at under $17,000.
2nd Place Finisher: 2015 Nissan Versa
The entry-level price of the Versa is one of the lowest in this class and it retains much of that value even after five years of ownership.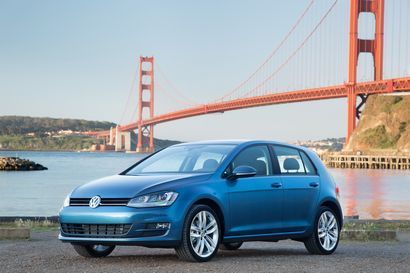 3rd Place Finisher: 2015 Volkswagen Golf
Like the Fit, the Golf is all-new this year with pricing for the functional hatchback beginning at under $19,000.
2015 Best Resale Value: Compact Car
Best Compact Car: 2015 Subaru Impreza
For the second year in a row the latest Subaru Impreza, with a starting MSRP of $19,490, takes the crown for best compact resale value in 2015.
2nd Place Finisher: 2015 Toyota Corolla
The affordable and reliable Toyota Corolla was all-new in 2014, giving it a sportier exterior and updated interior with a starting MSRP of under $18,000.
3rd Place Finisher: 2014 Scion xB
The boxy, yet versatile, xB from Scion garners third place for the second year in a row with a no-haggle starting price of $17,890.
The Bottom Line
Credit-challenged borrowers, especially those on tight budgets, should never confuse the price of a car with its cost. KBB's Jack R. Nerad puts it this way: "Choosing makes, models and options wisely now can help new-car shoppers keep additional money in their pocket down the road when they go to sell or trade-in the vehicle used."