Consumers with less than perfect credit might want to pay attention to the following tips for improving their credit scores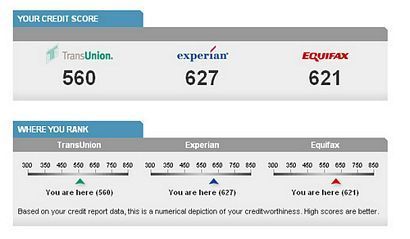 Improving your auto credit
At Auto Credit Express we've spent the past two decades helping car buyers with less than perfect credit find new car dealers that work with lenders that specialize in high risk car loans and can offer them their best opportunities for approved auto loans.
Rather than offering just a simple online application, we also spent a great deal of time creating a resource section on our website so that consumers with credit problems could understand such subjects as repossession and basic car loan requirements.
In the process of looking for new ideas for this section, not long ago we came across an article from the U.S. Government's web portal that seems to sum up nicely the process of improving credit scores.
This is what it had to say:
5 Steps to Help You Improve Your Credit Score
So what should you do if you want to improve or maintain a good credit score? The following tips might help.
1) Request a free credit report
You can request a free copy of your report every 12 months from each of the three main credit bureaus: Equifax, Experian and TransUnion.  
The official website to get your free credit report is www.annualcreditreport.com.
2) Understand Your Credit Report
Understanding your credit report will help you make better decisions when it comes to your finances, because your credit score is based on your credit report. It includes personal information about you such as:
•    Your payment history.
•    How many loans you have and how much you owe.
•    If you have ever filed for bankruptcy.
3) Check Your Credit Report
Sometimes information on your credit report might be incorrect or incomplete. That's why you should check it periodically.
If you do find a mistake, these agencies must:
•    Investigate the discrepancy usually within 30 days and correct it if necessary.
•    Notify the company that provided the incorrect information.
•    Provide you with a free copy of your credit report if changes are made.
The Federal Trade Commission has more detailed information on how to access free credit reports.
4) Pay Your Bills on Time
Paying your bills on time is an important factor in determining your credit score and showing your creditors that you are a responsible consumer. But there are other factors that might impact your credit score:
•    Be selective when you apply for credit as too many applications may negatively affect your score.
•    Don't go over your credit limits. In fact, it is better to stay well below them.
•    Pay down your debt with regular payments.
5) Get Professional Help
A budget might help you pay your bills on time. If you owe too much or are unable to pay your bills, you might want to consider a credit counseling agency. They can help you to manage your finances or figure out a plan to pay off your debt.
Be careful when seeking out these services, they might charge excessive fees and that can put you deeper in debt. The Federal Trade Commission has more information about credit counseling agencies and how they can help you improve your credit score.
As we see it
There is just one more thing we'd like to add. In some instances, just raising your FICO scores won't qualify you for a traditional car loan. That's because many of these lenders not only look at your credit scores, they are also looking for some kind of car loan history.
When this happens, consumers with past credit problems normally have two auto financing choices:
1. Find a qualified co-applicant
2. Apply for an auto loan with higher-risk lenders that offer bad credit auto loans to people who are interested in reestablishing their car credit
Here at Auto Credit Express we want you to know that before you visit a tote the note or BHPH dealer that we work with a network dealers that understand car shoppers with credit issues and offer them their best chance for approved auto loans.
So if you're ready to establish your auto credit, you can begin now by filling out our online car loans application.