The combination of a recovering economy and cheap gas prices will lead to more road congestion on the Wednesday before Thanksgiving 2014
Thanksgiving Traffic Forecast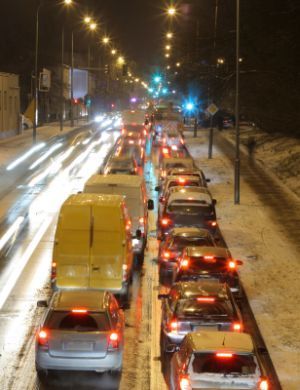 More jobs and less expensive gas are usually good things, but throw in the Thanksgiving holiday and drivers across America could be facing longer delays this year as they wend their way to family get-togethers.
That bit of information is courtesy of the annual Thanksgiving Traffic Forecast from INRIX, a big data technology company whose global headquarters are located in Kirkland, Washington.
According to INRIX, "the Wednesday pre-Thanksgiving rush hour is expected to begin two hours earlier than a typical Wednesday with drivers in most cities expecting longer delays."
INRIX suggests that drivers wishing to avoid the worst of the pre-holiday traffic should avoid driving between 2pm and 5 pm.
Top 10 Worst Traffic Cities this Thanksgiving
Not only is INRIX forecasting overall heavier traffic this week, the report also is predicting the top 10 cities where drivers will suffer the worst delays (Rank, Metro Area, 2014 Peak Wednesday Time, Extra Time, Change from 2013):
Los Angeles CA, up 8.5 percent

3PM-5PM peak traffic
36 minutes delays

Portland OR, up 6.0 percent

3PM-PM peak traffic
35 minutes delays

San Francisco CA, up 13.0 percent

3PM-PM peak traffic
34 minutes delays

Seattle WA, up 7.0 percent

3PM-PM peak traffic
32 minutes delays

New York NY, up 5.0 percent

3PM-5PM
26 minutes delays
Washington DC, up 2.0 percent

2PM-PM peak traffic
25 minutes delays

Philadelphia PA, up 6.0 percent

3PM-PM peak traffic
23 minutes delays

Boston MA, up 22.0 percent

2.30PM-4.30PM peak traffic
20 minutes delays

Chicago IL, up 6.0 percent

3PM-PM peak traffic
19 minutes delays

Miami FL, up 6.0 percent

3.30PM-5.30PM peak traffic
18 minutes delays
According to INRIX Analyst Jim Bak, "Our advice to drivers wanting to avoid the worst traffic is to leave by 2 p.m. or after 6 p.m. on Wednesday. If it's possible to wait to leave until Thanksgiving morning, roads will be free and clear as long as you're not heading to the Macy's parade or a major shopping center to get a leg up on Black Friday."