Consumer Reports bills itself as "the world's largest and most trusted independent, nonprofit consumer organization." And every year, it publishes a list of new vehicles that it considers its "Top Picks."
The Consumer Reports Top Picks list lets car shoppers know those vehicles recommended for purchase in several categories. This year, seven new entries have made their way onto the Top Picks list. Out of these seven models, four cars might be affordable enough to be considered by shoppers with bad credit or tight budgets.
Of course, if your credit score is very low, a used vehicle option may be a better choice. However, if your credit is just slightly damaged, one of these affordably-priced new cars might be within your reach. All of them can be purchased for $30,000 or less.
The 2017 Toyota Yaris iA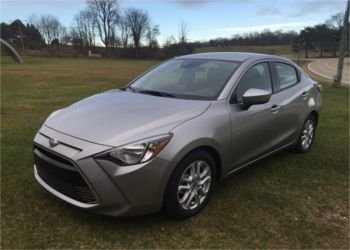 This subcompact car, formerly known as the Scion iA, is built by Mazda and is based on the new Mazda2. Journalists have noted that the Yaris iA provides a comfortable ride and offers nimble handling that makes it fun to drive. And if you're concerned about safety, you'll be pleased to know that even the base model Yaris iA comes with a backup camera. Standard equipment also includes a low-speed pre-collision system.
The 2017 Chevrolet Cruze

The compact car category is highly competitive, so winning the top spot in this segment is quite a victory for the Cruze. Redesigned for the 2017 model year, the Cruze offers a lot of value in a fairly small package. In fact, some critics have claimed that this compact car is roomy enough to be a good alternative to a pricier midsize vehicle. Also, according to EPA estimates, the 2017 Cruze is very fuel-efficient. And tech-lovers will like the fact that an "excellent" infotainment system comes standard even on base models.
The 2017 Kia Optima

For families in the market for an affordable and highly-rated midsize car, the 2017 Optima should be on their personal list of Top Picks. It's equipped with a spacious cabin that features high-quality materials and user-friendly technology. The Optima also offers sharp handling, a smooth ride and strong braking abilities. And to further enhance its status as a solid family car, it comes with a long list of standard and available safety features.
The 2017 Toyota Prius

If you have your heart set on a hybrid, why not pick the one that pioneered the movement? The Prius boasts that distinctive silhouette that makes it stand out in a crowd. It will also save you a great deal of money in gas throughout your time as an owner. Of course, its class-leading (EPA-estimated) fuel efficiency isn't the only reason to consider buying a Prius. It also comes with an ample amount of cargo room, a composed ride and a very chic interior. And, surprisingly, in spite of the complexity of its hybrid powertrain, the Prius has earned "excellent" reliability ratings.
Finding the Vehicle that's Right for Your Budget and Needs
Whether you're in the market for a new car or a used vehicle, Auto Credit Express can help. Even if you have bad credit, we can match you with one of the thousands of dealers in our network.
We'll do our best to find a local dealer for you that can work with unique credit issues. And we'll provide this obligation-free service to you at no cost. So, you have nothing to lose. Go ahead and fill out our simple and secure auto loan request to get started today.