Savings site Motozuma partners with Hyundai and the result could help buyers with credit issues reduce the overall expense of a car loan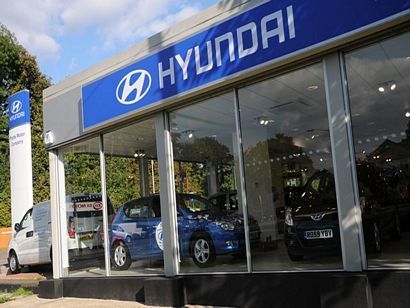 What we know
Credit challenged car buyers should always be on the lookout for any way to reduce the interest expenses of high risk car loans.
Here at Auto Credit Express, we know this is important because for the past twenty years we've been helping car buyers with credit problems find the right new car dealers that can offer them their best opportunities for car loan approvals.
As for reducing the interest expenses of bad credit auto loans, we have an answer that may work at least some of the time. And while not all buyers with poor FICO scores will qualify for a new vehicle, for those that do there is an interesting and potentially money-saving program out there from Korean automaker Hyundai.
New cars
When it comes time to pick out a vehicle to be financed, most consumers with poor credit typically think of financing a used car because they believe this will result in a lower monthly payment. Taking only the price into consideration, this is probably true.
There are, however, other aspects to consider: fuel economy, interest rates, and a vehicle service contract versus the new car warranty as well as the length of the loan term. All these points need to be analyzed in determining the overall costs of vehicle ownership
This is also why the program from Hyundai and Motozuma could be good news for many car buyers with less than perfect credit. That's because, in renewing its partnership with the free social savings website, the manufacturer is once again offering to match the funds on deposit if you buy one of their vehicles.
According to the automaker, "Hyundai will match dollar for dollar up to $500 for a customer that buys a new 2012 or 2013 Hyundai using their Motozuma account funds as a down payment. Hyundai matches the dollars and Motozuma acts as the facilitator of the down payment at the dealership."
The Hyundai warranty and more
Not only will Hyundai match the buyer's first $500, it just so happens that these vehicles are some of the most affordable new cars available and, to top it all off, they come with one of the best new car warranties in the business – a 5-year, 60,000-mile transferable limited new car warranty and a 10-year, 100,000-mile powertrain warranty. Buyers also get 5 years of roadside assistance at no charge.
To take advantage of this program all potential buyers have to do is to set up an account with Motozuma for at least 30 days. Once they've deposited up to $500, they're eligible for the program.
One thing to keep in mind, however, is that not all buyers with poor credit scores will necessarily qualify for a new car. In addition, there may not be a Hyundai new car dealer near you that works with people who have credit challenges.
That being said, if you do have credit problems how can you find a dealer that is willing to help?
Give us a try
Glad you asked. At Auto Credit Express we match applicants that have experienced auto credit issues with dealers that can offer them their best chances for approved car loans.
So if you're ready to establish your car credit, you can begin now by filling out our online car loans application.