If you have ever shopped for a new car, you have probably tried to decipher its window sticker. You'll soon notice that there is a lot more to them than just the price, and all of the numbers and information can be confusing. Understanding what's on car window stickers can be really useful for vehicle shoppers, so let's breakdown the key areas included on them.
The 9 Key Sections of Car Window Stickers
A window sticker, officially known as a Monroney label, lets you know exactly what's included with any particular vehicle. They are required by law, so the information contained on them will be very similar even though the layout will vary by automaker, make, model, or year.
You'll find specifics on the following nine areas of interest:

Model Information - This section will list the vehicle identification number (VIN), make, model, year, trim, engine and transmission combination, and the color of the interior and exterior.
Standard Equipment - This part will list all items and features that are included in the manufacturer's suggested retail price (MSRP). The equipment is usually categorized into the following groups: exterior, interior, safety and security, comfort and convenience, and mechanical and performance.
Optional Equipment - This section should be located right next to the standard equipment list. It includes information about factory-installed options (which are sometimes bundled into packages) and options you can pick and choose. Be sure to talk to the salesmen about the exact components offered and how they can affect the vehicle's price.
Pricing Information - You can find the base MSRP and a breakdown of options and fees on the window sticker. Any destination charge (cost of transporting the vehicle to the dealer) or gas-guzzler tax will be listed here.
Total Price - This can sometimes be found in the pricing information section, but it usually occupies its own space. It lists the total MSRP of the vehicle with base MSRP, options, discounts, destination fee, and market adjustments factored in. This offers a point of reference for your negotiations.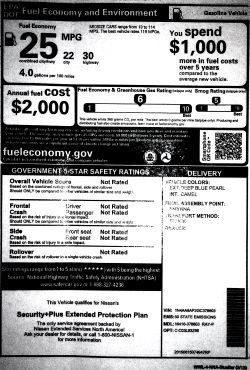 Warranty Information - The length of any new car bumper-to-bumper warranty or powertrain warranty will be listed in this section. You can also find information on any roadside assistance packages or free maintenance programs offered. This section helps you compare warranty coverage across automakers.
Parts Content Information - This part tells shoppers where the vehicle's major components were made, as well as where final assembly took place. Many window stickers will even list what percentage of its parts where made in the U.S. and/or Canada. For those that like to "buy American," this section can help you out.
Fuel Economy Label - You can find the EPA's fuel economy estimates for city/highway/combined in this section. You may also find a QR Code that you can scan with your smartphone to access the EPA's website in order to get further information and personalized fuel economy data. This is an extremely useful bit of information for shoppers that allows them to easily compare one car to another.
Government 5-Star Safety Ratings - This section will list the vehicle's star ratings from the National Highway Traffic Safety Administration (NHTSA). The NHTSA performs its own safety testing on the majority of new (or updated) vehicles, so you can see how the car performed across the different crash tests. Occasionally, the vehicle's Insurance Institute for Highway Safety (IIHS) scores will be listed as well.
Bonus sticker alert: The Supplemental Window Sticker - Dealers who add on accessories to a vehicle must affix this label next to the actual window sticker. It will list all dealer-added accessories, so look at it carefully in case there are ones that you are not interested in or that could be raising the price of the car significantly.
You can use all of the information on a window sticker to your advantage. Now that you have familiarized yourself with what's on them, you can make an informed decision when comparing the vehicles you are considering.
Financing First
It's great to understand the ins and outs of car window stickers, but what if you are having trouble getting approved for vehicle financing due to your credit? If you need a car but your credit is holding you back, just come to the experts at Auto Credit Express.
If you have bad credit, thin credit, no credit or have been turned down because of credit issues in the past, we can still help you find financing. If you want us to help you next, all you need to do is complete our free and secure auto loan application.