If you have been putting off a car purchase because you know that your credit is bad and you don't want to face rejection at a dealership, an ad for "Guaranteed Bad Credit Auto Loan Approval" may be enticing. You may see a commercial on TV or receive a flyer in the mail that says "Bad Credit? No Problem!" and think that you've found your solution. But, sadly, this may not be the case.
Many states will not even allow dealers to advertise "Guaranteed Bad Credit Auto Loan Approval" since it can be a very deceptive claim.
The Slippery Slope of Bad Credit Car Loans Guaranteed Approval
It is true that no matter how damaged your credit is, some kind of auto financing can sometimes be arranged. However, there's no guarantee that you'll like the deal you get.
When a dealership runs a "Guaranteed Bad Credit Auto Loan Approval" promotion, it is understood that a lot of shoppers might show up at the lot. Some of these customers may think that their credit is worse than it is in reality, and others might have a credit score that's on the high side of low. These are the consumers that the dealers want to sell to because they can typically be approved for financing.
Why Can't I Get a Car?
Here at Auto Credit Express, we recently received a response to one of our articles, and it went something like this:
"I have bad credit and I have been trying to get a car for awhile. Every dealer that I've been to wants a big down payment or they can't help me. If that's the case, why do they say no one gets turned down?"
Not Everyone Qualifies for an Auto Loan With Bad Credit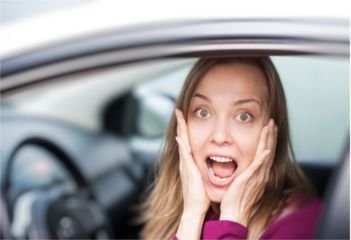 As a case in point, our website, www.autocreditexpress.com, lists some basic requirements for getting a car loan:
You must gross at least $1,500 in monthly income if your FICO credit score is around 660 or lower.
All bankruptcies must be discharged. Some lenders will consider a Chapter 13 bankruptcy that's two-thirds completed with an order to incur additional debt.
No repossessions in the last year, unless included in a bankruptcy.
Loans are for automobile purchases from our authorized licensed dealer partners.
U.S. residents at least 18 years of age.
If you can't pass these auto loan requirements, chances are you won't qualify. However, just because you meet these requirements doesn't guarantee that you'll get approved.
Lenders also look at your debt-to-income ratio. If your monthly bills exceed 45% to 50% of your monthly income, then most lenders won't allow you to take on additional debt. Lenders also consider the payment-to-income ratio. Most lenders won't allow your car payment to exceed 15% to 20% of your monthly income.
Lenders also look at the source of your income. If you're a W-2 employee with multiple years at the same job, this works in your favor. If you're self-employed or have less than a year on the job, getting a lender to approve your application could prove to be more difficult.
What Can Happen to Car Buyers with Really Bad Credit
Some customers who show up for advertised deals at car lots, the ones who have really bad credit, may not be so lucky. In order to not be accused of false advertising, a dealer might offer them something, but it could be a "deal" that is on the unreasonable side.
They may ask the buyer to provide a down payment that is equal to 50%-75% of a vehicle's selling price, knowing that the customer isn't looking to put up thousands of dollars in cash.
Because it might be necessary to assign a high interest rate to a buyer with very bad credit, the monthly payment could end up being well outside of the customer's budget.
The dealer may only be willing to sell the customer one car on the lot, and this vehicle may be older and have higher mileage.
If you need to finance a car and know that you have severe credit issues, you don't have to put yourself at the mercy of dealers who make unrealistic claims just to get people in the door. You don't have to waste time with dealerships that are not qualified to work with your unique situation. There are auto loans available for nearly every type of buyer, but you may need a little help finding one.
If I Don't Get Approved Now, Will I Ever Get Approved?
Many credit situations are temporary. Not enough time on the job can be cured by – you guessed it – more time on the job. Debt-to-income problems can be solved with either less debt (paying off some of your bills) or more income (changing jobs or getting a raise).
Self-employment issues can be resolved with better record keeping and having a tax professional prepare your income taxes. What's holding you back now could change in six months or a year.
Auto Credit Express Won't Make Empty Promises
Here at Auto Credit Express, we never mislead our customers by using phrases like "guaranteed approval." We have helped hundreds of thousands of customers with bad credit get either a new or used car through our affiliate dealers.
We do this by being upfront about the bad credit buying process, and by furnishing our customers with the tools – loan calculators and online resources – to make informed choices. When you're ready, you can fill out the auto loan request form on our website, and we'll work to match you with a dealer near you.
As always, if you have any questions that our website can't answer, feel free to contact us via phone at 866-902-4403 or through our contact page. Remember, here at Auto Credit Express, we want you on the road to better credit!