If you made it through college without a car, you may find that your new life as a young professional demands regular access to personal transportation. Or, if you did have a vehicle as a student, it might be time to replace your old wheels with a newer, more reliable model.
So, what kind of car should you choose? Buying a used vehicle will save you money, but if you would prefer to own a brand new car, there are some affordable options available. Autotrader has recently published a list of new vehicles that are priced below $25,000 (starting), get at least 30 miles per gallon on the highway (EPA estimated) and are ideal for recent college graduates.
Cars for Recent College Graduates to Consider
Before immediately deciding that buying a new car is impossible, consider this advice from executive editor at Autotrader, Brian Moody:
"Some young car buyers may think that a new car is out of their reach, but there are many new cars that are relatively affordable, and some manufacturers even have special offers and programs designed specifically for recent graduates."
When shopping for your new vehicle, think about how much you can comfortably spend and stick to your budget. You should also consider the expenses that are associated with car ownership, such as auto insurance and the cost of fuel. Buying a vehicle that offers good fuel economy will save you money down the road. It is also a good idea to select a car that comes with great options and has been highly rated for performance and safety.
Here are five vehicles that meet these qualifications.
The Fiat 500X:
Compact and subcompact SUVs or "Crossovers" are very trendy right now, and the Fiat 500X is a great option from this category. Its surprisingly upscale cabin can seat five comfortably, it has a user-friendly infotainment system and test drivers have noted that it is easy to maneuver. And because Fiat vehicles are known for their attractive Italian styling, the Fiat 500X is sure to get you noticed.
The Honda Civic:
If you are looking for a tried and true compact car, look no further than the top-rated and always popular Honda Civic. For not a lot of money, the Civic offers a premium interior, high-end features and "outstanding" safety. And with an EPA estimated fuel economy of 38/42 miles per gallon (city/highway), if your new job comes with a longer commute, you won't break the bank.
The Kia Soul:
With its extra long powertrain warranty, you won't have to worry about a thing with your Kia Soul. It also has a fun, boxy shape, "ample" cargo and passenger space, a premium interior and a long list of available features. Critics have been impressed with how easy it is to use the Soul's high-tech features, as well as its smooth and quiet highway ride and strong braking system.
The Mazda Mazda3:
In the extremely competitive compact car class, the Mazda3 has been highly ranked by most reviewers. With "zippy" handling, an impressive interior and a sleek and stylish design, this small car is both fun to drive and easy on the eyes. The infotainment system has been described as simple and intuitive, and both the sedan and hatchback versions offer plenty of cargo space.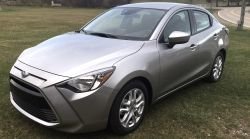 The Scion iA:
The Scion brand has officially been discontinued, but the redesigned 2016 iA is still available and this model will become the Toyota iA in 2017. With prices ranging from about $15,700-$16,800, you can get a new one for about same price you might pay for many used vehicles. You will also get an interior that is considered "top-notch" for its class and "outstanding" (EPA estimated) fuel economy.
No matter which car you decide to start your post-graduation life with, make sure that you get the best possible financing. Even if you are just starting out financially and don't have much of a credit history, you may still get fair terms on your auto loan if you start with the right resource.
Financing for Recent College Graduates
Having little or no credit can make it difficult to get the auto financing you need, but Auto Credit Express can help make the process easy and hassle-free. No matter what your credit looks like, we can connect you with a dealer in your area who is qualified to work with your situation. And there's a bonus: once you purchase your car and start to make your timely payments, you will begin building the kind of credit history that will make it easier to make future big purchases. It's a win-win.
Our service is free and our process is fast, so you have nothing to lose. Go ahead and fill out our simple and 100% secure online application to get started today.