If you are buying a new or used vehicle to replace your current car, you may want to trade your current vehicle in at the dealership. If there is cash value in your trade, this will cover at least part of the down payment on the vehicle you are buying.
Of course, you will want to get as much money as you can. So, here are a few tips on how to get the most out of your trade-in deal.
Buying a Car with a Trade-In Vehicle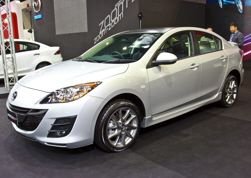 If your need for a newer car isn't immediate, take the time to do some research and planning before visiting the dealership. You will probably get a much better deal on your trade-in if you commit to little advance prep work.
Know Your Car's Value
There are several websites that you can check to find the book value of your current vehicle. The most popular resources are KBB.com (Kelley Blue Book) and NADA.com. Of course, the condition of your car also matters when you trade it in. But knowing the book value will give you a number to work with when you start negotiating with a dealer.
Consider Your Timing
In the dead of winter, most car dealers aren't looking to stock their showrooms with convertibles. However, they might be very interested in getting their hands on some four-wheel drive vehicles. Think about the time of year that your car would be most in demand. Also, check out a few auto-centric blogs to gauge whether or not your trade-in happens to be popular right now.
Make Your Vehicle Look Good
You will probably get more money for a car that looks lot-ready, so wash the vehicle inside and out, and remove all personal items. If there are smoke or pet odors in the car, you may want to go to a detail shop and ask for an ozone generator to remove them. You may also want to perform minor repairs if needed. For example, make sure that all of the lights work, the wiper blades aren't worn out and get the windshield replaced if it is cracked.
Gather Your Records
If you have kept your vehicle maintenance records, get these organized and ready to bring with you to the dealership. Having proof that you have kept your trade-in well maintained should help you get a good price.
Negotiate trade-in value and purchase price separately. In order to make sure that you are getting a good deal on both your trade-in and the car you are buying, don't negotiate the whole deal all together. Agree on the selling price for the car being purchased, then move on to figuring out an offer for the vehicle you're trading, .
Be ready to show your work. If you have found several sites that list prices for vehicles that are similar to yours, bookmark those sites and have your phone or tablet ready. This way, you can open negotiations by saying something like, "I was researching car prices on line, and this is what similar vehicles are going for in the area."
It is usually true that you should be able to get a little money for your car if you sell it privately. However, you will probably save yourself a lot of time and frustration if you trade it in on your next vehicle purchase. Also, in all except eight states, trading your car will give you a tax advantage. In these states, you are only required to pay sales tax on the difference between the purchase price of the new vehicle and the amount that the dealer is giving you for the trade-in.
Finding the Best Financing Assistance
If you know that you need to buy a new or used car, truck, van or SUV and are dealing with credit issues, getting approved for an auto loan may be your biggest concern. When you're buying a vehicle with bad credit, it can be difficult to even know where to start.
And this is why you should begin the car buying process here, with Auto Credit Express. We can match you with a dealership in your area that is qualified to work with bad credit. This dealer will be connected to the kinds of lenders that are willing and able to approve you for financing.
Our process is free, easy and hassle-free. Just fill out our simple and secure online application to get started today.