Getting your first car can be an exciting time, but qualifying for an auto loan could be difficult if you have no credit history. The good news is that, with careful planning, you can qualify; the bad news is you won't always get the car of your dreams.
Programs to Get an Auto Loan with No Credit
If you need a car but don't have an established credit history, you can see the predicament lenders are in. It's impossible for them to gauge your repayment behavior, so they are wary to approve those they cannot evaluate. This is why it's hard to get approved at a traditional lender like a bank or credit union.
Many borrowers who need an auto loan without a credit track record need to seek out special financing. These programs use other requirements, such as income and time on the job, to approve applicants for auto financing. The downside is that the interest rate will be higher than normal to accommodate the higher risk the lender is taking on.
The good news is that an auto loan can be an excellent credit-building tool. If you make the payments on time, you will see your credit score rise in due time. If you need a car but have no credit history, Auto Credit Express can help you find one of these auto loans.
Tips to Get a Car Loan with No Credit
Because credit is one of the biggest factors in determining auto loan eligibility, it's important to have an established credit history. But, even if you have no credit and are a "credit ghost," there are ways to work around this. An auto loan is a great way to build up your credit, each on-time payment will add to your payment history, which makes up 35 percent of your credit score.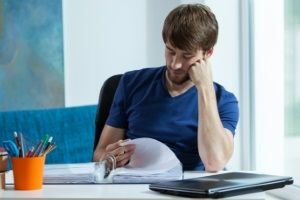 You'll need to do some planning and research before applying:
Pull credit reports – Even if you're 100 percent certain you have no credit history, it pays to double-check. If you've been listed as an authorized user on a credit card, you could already have a solid credit history. You're entitled to one free credit report from each of the three bureaus every week until the end of 2023. You can get them at annualcreditreport.com.
Calculate and budget – Make sure you have enough to finance a vehicle. Use online tools and calculators to help budget for the loan. Be prepared for a down payment – typically $1,000 or 10 percent of the vehicle's selling price, whichever is less. Also, consider taking out a loan with a shorter term to save money on interest charges.
Shop around – Having no credit doesn't mean you're automatically disqualified for good deals and rates. Don't settle for the first lender who gives you a decent offer, shop around and see what others can offer. If you have history with a bank or credit union, consider going to them for financing. They may be willing to work with you to get the best deal for your situation.
Consider a cosigner – A common way to apply for your first auto loan is to have a cosigner. Check with your cosigner to make sure they meet the requirements – good credit, a solid source of income, and the ability to take on another loan – and are aware of the risks involved. First-time borrowers typically ask their parents or family members to cosign an auto loan.
Consider buy here pay here – If you're not worried about the quality of the car, and find there's no time to wait around for financing, then a buy here pay here (BHPH) lot could work for you. These dealers offer in-house financing, and you'll complete all of the car-buying processes on their lot. These lots don't generally run credit checks and they use your income to determine if you qualify. Be aware, however, that they typically don't report your payments to the credit bureaus, so this type of loan won't help establish or improve your credit.
Establish your Credit Beforehand – Some find that they are better off if they don't buy a car until they've established a proper credit history. Getting approved for a credit card or a secured credit card is a good way to do so. A

secured card

is a perfect tool to start building a history. Timely payments will help boost your credit score better than anything else.
The better prepared you are, the easier the car-buying process will be. A word to the wise: when rate shopping there's no avoiding a hard inquiry, so make sure you rate shop within the given time frame (usually 14 to 45 days) to avoid multiple inquiries, which will lower your credit score.
No Credit? No Problem!
Buying your first car is exciting, but trying to get approved for financing with no credit? Not so much. Not all lenders are willing to work with car buyers who have little to no credit, and that's where our team comes in.
If you're looking to get your first auto loan, but aren't sure where to turn, let Auto Credit Express help. We connect car buyers with local special finance dealers who have lenders available to work with unique credit situations. Take the first step and fill out our free auto loan request form today.