Summertime is nearly in full swing. Hot weather, beaches, and road trips will be calling your name. Before you hit the road with your family or friends, it's important you know how to take care of your car during the summer season.
Essential Car Care Tips for Summer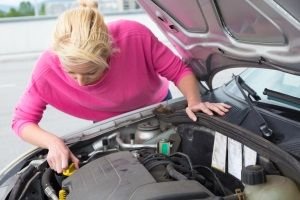 To avoid any unexpected car repairs, you'll want to make sure your car is in tip-top shape before hitting the road. Experts at AAA recommend you do four major things to better prepare for a road trip with friends and family:
Regular maintenance – Even if you're not going on a road trip, it's important you keep up with your car's scheduled maintenance. Make sure you or your mechanic check all fluid levels such as coolant, transmission, and oil, the vehicle's filters, and wiper blades.
Check tires – Even if you recently changed your tires, it's always a good habit to get into checking them for any outstanding wear and tear. Either you or the mechanic should also check all of the tires' air pressure (including the spare) and schedule for a tire rotation, if needed. Be sure to do this when they're cold, as heat affects their pressure and can give inaccurate readings if you've been on the road in hot weather.
Test the battery – Car batteries usually have a shelf life of only three to five years. If you plan on traveling to a hotter area, your battery life can be reduced. Double check that your battery is within the three to five year age range. If it's older than five years, it may be time to replace it.
Prepare an emergency kit – Prepare for the unexpected, even if you do go through the proper car maintenance steps. Keep important safety items, such as a flashlight, first-aid kit, tire-changing equipment, jumper cables, and emergency flares or reflectors, in the car at all times. It's better to be safe than sorry, especially if you get stranded on the road.
One last tip is to make sure your engine is clean and ready for the road. A dirty engine can run hot, so remove any debris such as leaves, grass, and twigs and even soak it in degreaser if it's especially bad. If you notice any issues, let your mechanic know so they can check it out for you.
Get a Reliable Car for a Road Trip
One of the most important things to keep in mind is safety. Having a reliable vehicle is crucial for a road trip, but sometimes things happen. You can look into coverage to save on vehicle repairs, or maybe it's time to buy your next car. If you've been thinking about purchasing a more reliable vehicle for you and your family this summer, but worry your bad credit will hold you back, let Auto Credit Express take the lead.
We connect consumers to local special finance dealers that know how to work with challenging credit situations. To get started today, simply fill out our secure and free online auto loan request form.