Credit approvals for car loans can vary by lender, but if you're approved for a loan you typically have around 30 days to say yes and take care of all the details. If you miss your window, you may be left re-applying for financing.
Anything you're actually approved for after a credit pull is considered a pre-approval. This is different than a prequalification, which happens without you filing a credit application, and without a hard pull on your credit.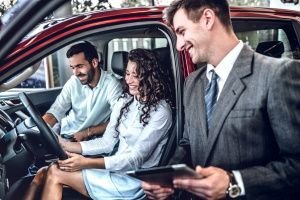 Pre-approvals can come from banks, credit unions, and various lenders. You may get several pre-approvals while rate shopping, but nothing is set in stone until you accept the loan and sign the paperwork.
Right now, due to inventory shortages, some captive lenders are offering rate lock programs, guaranteeing your interest rate even if you have to wait for your vehicle. This means if the interest rates fluctuate your quoted rate won't be subject to change.
Not everyone is able to qualify for this type of rate lock program, though. Typically, you need to have good credit in order to take advantage of these types of offers. If you don't have good credit, you may not be eligible to take advantage of a rate lock program, but that doesn't mean you're not eligible for financing.
Bad credit borrowers typically need to meet more qualifications than borrowers with better credit and need to provide dealers with more proof of their financial and living situations. General auto loan requirements include proving your income, employment status, and residential stability, and providing proof of a working telephone, and personal references. Additionally, bad credit borrowers are always required to provide a down payment and may be asked to have a cosigner in order to qualify for lending.