Anyone who is currently in the market for a car has probably noticed the lack of choices at some dealerships, causing them to ask the same question: why cars are hard to find at the moment? There are a few reasons why getting a car may be difficult for the foreseeable future, and why it can be even more difficult if you're a shopper with bad credit. But first, let's look at why this inventory shortage is occurring in 2022.
Why are there so few cars available? Unsurprisingly, this inventory shortage of both new and used cars can be traced back to the start of the coronavirus pandemic. Automakers canceled orders of semiconductor chips and stopped production of their cars, trying to accommodate a potential decrease in sales and demand while the economy recovered. However, reordering the semiconductor chips proved challenging because consumer electronics had already been given the chips by overseas suppliers.
This meant supply chain issues that automakers were scrambling to fix, and the demand for the materials overpowering the available supply. Because of this, many car factories are struggling to get their production back on track even now, two years later. What's more, analysts have predicted that this ongoing semiconductor chip shortage won't return to pre-pandemic inventory levels until 2023 at the earliest, since many of the suppliers are located overseas and there are difficulties in building the chips domestically. While the government has stepped in to try and help get what automakers need, it will still take time to make happen.
How does this affect the industry? For automakers, one of the main goals is trying to get vehicles back on dealership lots. This has been hard to do, given how far behind production is and it means that some automotive companies like Toyota have decided to stop production on certain models for a short length of time in order to focus on other models. Manufacturers like GM have decided to prohibit third-party buyouts of leases in order to get more cars back to their own dealers, while Ford is taking steps to bolster its inventory by limiting the number of configurations some vehicles can have by up to 80%.
Even with these new restrictions, it is still not enough to send out complete cars that perfectly match how they were advertised. The lack of semiconductor chips means that manufacturers have had to determine which features deserve getting a chip and which ones have ended up being left out. Brands like GM, Ford, Genesis, and Toyota have been shipping vehicles from their factories that are missing features that would have come standard otherwise, such as driver assistance technology and keyless remote entry. As long as the vehicle was safe to drive, it was sent out with the hopes that chips could be installed at a later date to activate the missing features.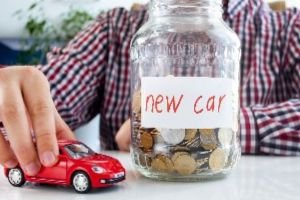 How does this affect consumers? With the automakers taking so many unprecedented steps to combat the chip and resulting inventory shortage, what is happening on the consumers' end of things? Of course, there is the frustration of not being able to get the vehicle you want because the configuration or features are not currently available, and there is the worry about having to wait months before your car is made and delivered, but the biggest effect this situation has on customers is the cost of the vehicles.
Since the demand for cars currently outweighs the supply by a large margin, the prices for cars, both new and used, have skyrocketed to previously unseen numbers and there is no sign of them going back down. Buyers have been paying MSRP or above MSRP for a while now and it's no surprise with brands like Tesla raising prices by $10,000, Ford adding raw materials fees, and dealerships marking up their prices. The average price of a new car in January of 2022 was $47,000. For anyone hoping to save some money by looking at a preowned vehicle, used car prices have also increased by over 40%.
Basically, consumers have less negotiating power than before. This is made evident by some automakers stopping their advertisement of lease deals, placing strict limitations on trade-in vehicles, or even paying consumers to wait until the car they want is available. However, that doesn't mean all hope is lost.
What are some solutions? Although used car prices have increased, shopping around for a preowned vehicle or a certified preowned (CPO) vehicle may be a good option for consumers. Used cars under $10,000 are especially hard to find at the moment, but CPO vehicles, while more expensive than non-CPO used cars, can be a good route to take in order to find a fair interest rate.
Whether new or used, there are still some incentives being offered to consumers that could make it possible to get a good deal on a car if you qualify. Some of these offers are great lease deals and others come in the form of 0% financing, sometimes for up to 7 years depending on what the brand is promoting. Ford, for example, has offered 0% financing for 60 months on new F-150 pickups and Lexus had 0% interest rates on CPO vehicles earlier this year.
Dealing with these changes in the industry can be hard to navigate for consumers who are car shopping under the best circumstances, but what about the consumers with bad credit? For those buyers, getting approved for an auto loan will likely be even more difficult, so it's worth looking into dealerships that specialize in subprime credit. They typically work with consumers within certain parameters to find a vehicle that fits their lifestyle while taking into account their financial needs. This means that some subprime lenders may give special rates and discounts to help lower monthly payments and could be the best way for those with poor credit to get into a car they need.